The Definitive Guide To
Esp32-cam Motion Detection
The world-best guide on motion detection for Esp32-cam without external PIR sensor. Everything you need to know, from A to Z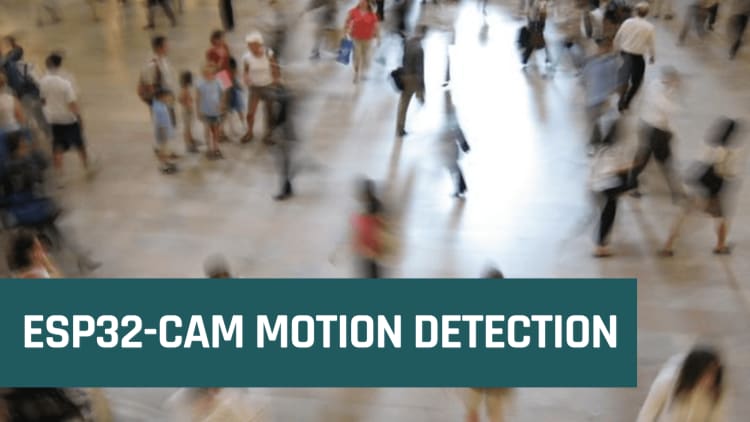 Motion detection on Esp32-cam without external PIR sensor has always been the most popular topic on this website.
I put much efforts over the months to refine this guide, but it never felt good enough.
So I kept working. And now I feel satisfied.
Now I feel I wrote the best motion detection software for Esp32-cam of the world. If you're skeptical, please read until the end.
This guide is pretty long and detailed. Take the time it deserves to read it all: don't skim through.
What is motion detection without PIR
Motion detection refers to the task of detecting when something in your region of interest is moving. Many times you are interested in human movement, but you can actually want to detect:
a car passing in from of your window
a bird reaching your bird-house
detect if your cat jumps over the sofa while you're off
Most tutorials on the web focus on human detection, so they equip the Esp32 with an external infrared sensor (a.k.a PIR, the one you find in home alarm systems) and take a photo when the PIR detects something.
If this setup works fine for you, go with it. Really. It's easy, fast and pretty accurate.
But the PIR approach has a few drawbacks:
you can only detect living beings: since it is based on infrared sensing, it can only detect when something "hot" is in its field of view (humans and animals, basically). If you want to detect a car passing, it won't work
it has a limited range: PIR sensors reach at most 15-20 meters. If you need to detect people walking on the street in front of your house at 30 meters, it won't work
it needs a clear line-of-sight: to detect infrared light, the PIR sensor needs no obstacle in-between itself and the moving object. If you put it behind a window to detect people outside your home, it won't work
it triggers even when no motion happened: the PIR tecnique is actually a proxy for motion detection. The PIR sensor doesn't actually detects motion: it detects the presence of warm objects. For example, if a person comes into a room and lies down on the sofa, the PIR sensor will trigger for as long as the person doesn't leave the room
On the other hand, video motion detection can fulfill all the above cases because it performs motion detection on the camera frames, comparing each one with the previous looking for differences.
If a large portion of the image changed, it triggers.
Video motion detection has its drawbacks, nonetheless:
power-hungry: comparing each frame with the previous means the camera must be always on. While with the PIR sensor you can put the camera to sleep, now you have to continuosly check each frame
insensitive to slow changes: to avoid false triggers, you will set a lower threshold on the image portion that need to change to detect motion (e.g. 10% of the frame). If something is moving slowly in your field of view such that it changes less than 10% of the frame, the algorithm will not pick it up.
Take some time to review the pros and cons of video motion detection now that you have a little more details.
If you're convinced it will work for you, let's start looking at the implementation code.
Hardware requirements
To implement motion detection on the Esp32-cam, you will only need, well, an Esp32-cam.
There are many models available on the market that will work fine:
Software requirements
This guide uses the Arduino IDE and complies with Arduino programming style. If you're using ESP-IDF, you may need to tweak a few lines of code (not covered in this guide).
Once you have the Arduino IDE installed, you need to install the EloquentSurveillance library from the Library Manager.
Now that everything is setup, let's enumerate the use cases.
---
Wow, this has been pretty detailed, right?
If you read so far, you have all the tools you need to create your own motion detection project with a lot of basic stuff.
Now...
If you liked what you read and want more...
I have 2 gifts for you!
1) The "Mastering the Esp32 Camera" eBook
I'm writing an eBook that will make you as expert on the Esp32-cam as I am (you agree I am, right?). It contains a part about this very topic (motion detection) and a lot more, such as:
Color blob detection
Passing people counter
Line crossing counter
Person detection
Fade detection
Object recognition (I also have a post on the topic)
TensorFlow YOLO
Edge Impulse FOMO
By buying the pre-sale here, you will have
50% discount on retail price (19,99 $ when done)
early access to chapters drafts and code
partecipate in polls and feature requests to shape the contents of the book while I'm writing
join the Discord community with all the other people who bought this pre-sale
Click the image below to read more.
2) The Motion Cloud Platform
Beyond the basics I highlighted in this post, there are advanced topics related to motion detection that may interest you:
create an animated GIF from motion frames: capturing a frame is a thing, getting an animation is a completely different one. It will supercharge your projects!
email notifications: Telegram is only one notification channel among the many available. What if you would like to send an email when motion is detected? We got you covered!
Zapier integration: Zapier is an automation platform to connect many web services without writing code. You can tweet, write to Google Sheets, send an email, save to Dropbox, add to Google Calendar and much more when motion is detected. Without writing a single line of code!
If this sounds appealing to you, I've launched a free cloud dashboard to store your motion pictures and watch them from your smartphone or PC.
Watch the 2-minutes video below to learn how it works.
Appendix: How to create a Telegram Bot
If you want to use your own Telegram Bot to get motion notifications, you need to create one.
Creating a Telegram bot is a straightforward process: there's a bot to do it!
Search for "BotFather" in your Telegram account and type /newbot, then follow the instructions. You will have something similar to the below screenshot.
Grab the token and paste it into the sketch near the TELEGRAM_TOKEN define.
Having troubles?
Ask a question
Having troubles?
Ask a question